Training Centre
Cafés Richard has been the leader on horeca market for many years.
We would like to invite you to explore the Académie du Café® and Universi Thé®, to become a master of the art of espresso or the tea ritual, in a professional atmosphere.
Cafés Richard is also an approved training centre.
---
Our baristas' advices
The art of coffee selection
To ensure the quality of our "Grands Crus", specialty coffees and blends, we implement essential processes: selection, roasting and evaluation. Sampling, sifting, sensory analysis, olfactory evaluation… find out the quality way of the green coffee which have been carefully selected upstream.
Our coffee experts guarantee all the control and tasting steps on a daily basis with only one goal: provide to our client an excellent coffee.
---
The secrets of a perfect espresso
Making a perfect espresso is the combination of multiple skills. The Barista needs to master the right gestures, dosages and techniques. Equipment cleaning and maintenance are also a key element.
Please do not hesitate to check this tutorial with Michael McCauley, who give us the golden rules of an excellent espresso. You will be rewarded with a nice onctuous constant crema and a wonderful hazelnut colour. The espresso will be perfectly balanced offering all of its aromas.
---
Latte Art - The Heart
Latte Art is a creative technique that consists in pouring the frothed milk in such a way as to make very eye-catching designs that contrast perfectly with the espresso.
Baristas can design all kind of shapes, like the heart which is a basic. It is here performed by Anthony Calvez, two times French Barista Champion and French Latte Art Champion 2015.
---
The cold brew
The cold drip coffee maker still attracts offee lovers. Drop by drop, second after second, cold water go through the freshly grounded coffee to offer a soft cup full of aromas.
The infusion is performed by Michael McCauley, Cafés Richard coffeeologist and international certified judge for the World Coffee Championships.
---
The art of Chemex
The elegance of the Chemex offers a delicate extraction in a designed coffee maker.
Christophe Rubino, three times French Cup Tasters Champion, trainer and expert at Cafés Richard will make you discover the different steps of this ritual.
---
QUALITY ALSO GOES BY MAINTAIN YOUR COFFEE MACHINE REGULARLY
To provide a coffee with a constant quality with subtle aromas, it is essential to use your equipment carefuly.
Tamping, an essential step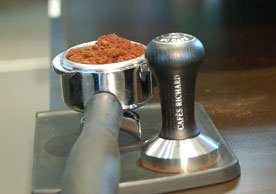 Always make sure to have equalized coffee level in the porta filter, then tamp with 20kg pressure. This gesture provides uniform extraction through the entire coffee surface.
The best flavors and a beautiful crema are released. Your group shower will become cleaner and the coffee grounds will not accumulate in the gasket groups of your machine.
---
The art of Espresso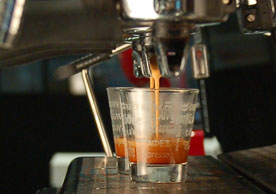 There are several indicators to recognize a perfect espresso: the quality of the crema, the extraction time and many others.
Learn to distinguish the sub-extracted espresso and over-extracted coffees in order to always prepare a balanced & aromatic espresso.
---
How to make a great milk froth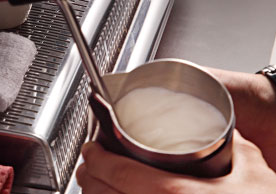 Making a great milk froth is the key to successful cappuccinos and cocktail coffees.
It gives them a velvety, silky appearance... an invitingly light and fluffy treat.
---
How to make a perfect cappucino?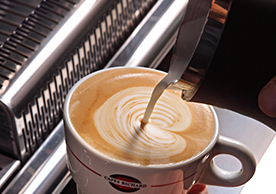 The magic recipe of a perfect cappuccino consists of 25% espresso, 50% hot milk and 25% frothed milk, but never whipped cream.
---
The art of painting...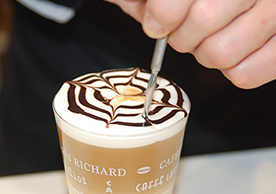 You may have heard of Latte Art, or making your coffee look attractive, with drawings of hearts, rosettas, flowers…
Now there's Painting, the art of retouching the designs to make them look original and delicious. Here's an example, the Orchid, and you can see other ideas in our Latte Art module.