Roasting and tradition
Cafés Richard, franch style roasting

Cafés Richard possesses unique expertise, passed down from Maison Richard, which was established in 1892
It starts with selecting green coffee beans and developing blends of consistent quality, continues with the experience of traditional roasting, and finishes with packing the coffee beans or ground coffee under the best possible conditions.
Cafés Richard may be part of the French tradition of artisan industries, yet it nonetheless uses modern technologies.
For one of the secrets of the incomparable aroma of your espresso lies in the roasting process, a unique technique for transforming green coffee into brown coffee.
A delicate alchemy...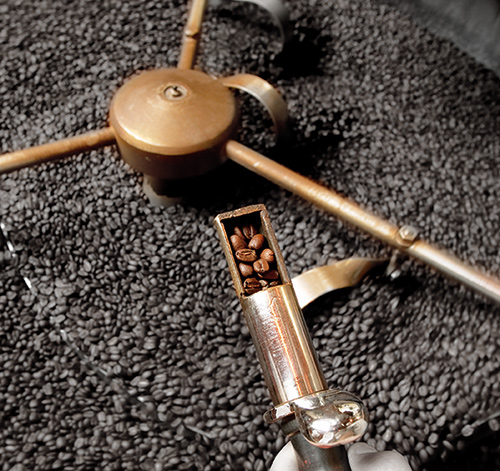 Our roasting process is tailored according to our varieties and blends of coffee, whose computer-coded recipes are jealously guarded, and reflects our constant concern for the quality and traceability of our coffees. Coffees from selected plantations in places such as Kenya, Ethiopia, Brazil, Papua New Guinea, India, Colombia, Galapagos, Mexico, Guatemala... Not forgetting our fair trade coffees, of course.

The green coffee beans are tipped by spindles into a drum and tossed constantly, then heated by a current of hot air, which gradually increases the burning temperature. It undergoes a series of physical and chemical transformations that modify its appearance and determine the quality of its aromas.
From the 10th minute, as the sugars that are naturally contained in the beans are caramelised ("the Maillard reaction"), the beans turn golden and release the first aromatic substances – the volatile aromas of coffee are made up of over 700 of these!
Then, as the minutes go by and the temperature keeps on rising, these beans go from amber light brown to so-called "Full City" brown, all the way to dark brown. Under the effect of the heat, the water has evaporated and the sugars and tannins have disappeared; the grain has lost 20% of its weight and swollen in size by 60%, releasing a gas, carbonic anhydride, which produces a crackling sound.
This more or less intense sound is very familiar to the coffee merchant's ear, and will serve as a guide to help complete the final roasting operation in cases where this is still done manually.
When it comes to the coffee merchant's technical expertise and skill, every minute counts... The bean would only need to be roasted for a moment too long for the physical and chemical shocks caused by the successive stages of the roasting process to destroy the quality of the aromas.
Thus, the tradition has been kept alive in our workshops for several generations, for the benefit of the catering professionals who serve 2 426 000 cups of Cafés Richard every day.
Our ambition is to remain at the cutting edge of technological advances, while maintaining the standards of "French-style" coffee roasting…